At least that's what it feels like.
Of course it's not hard to feel like you're hustlin' when you have multiple WiPs. We all know I skate that line of double-digit projects in progress.
Thankfully there's an awesome new link up to help me establish some sort of priority list for the rest of the year.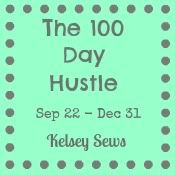 There's 100 days left in the year.
Wait.
I'm putting my list up late.
So I think there's 97 now.
That's slightly panic-inducing.
I'm going to stop counting them now and just focus on my list.
Hustle It:
1) ZZQAL
Someday I'll be surprised when this *isn't* on a "Please finish me" list.
2) #SuperwomanUndies with tutorial
-These have been in the works far too long already. Hoping to have everything written up when I get back from Summit.
3) Weekender
The pieces for this thing are on every surface available in my studio.
4) Farmer Wife Top

I feel like the Tortoise with this thing. That pile keeps growing and growing but never reaches the finish line.

5) Scrap Vomit Top
-I forgot to take a pic of this but it's just a box of squares at this point.

6) Plaid Pants


Because sometimes a girl just needs plaid linen pants.
7) Pieces for the shop

I have one thing finished but I really would like to have ten or so items in the shop. Rather than making a complicated list of everything it's just easier to condense it down into one item.

Not too crazy!

There are certainly items that I'm working on that aren't on this list but I tried to only include priority things here.

This list seems possible.
Maybe.
Except for that ZZQAL. I feel like there should be some sort of prize at the end of that one because I've lost all my motivation.