I used to make lists
all the time.
While unpacking from the move I found old lists on post-its, envelopes, in the edges of notebooks.
They were everywhere.
I don't think I've made a list in about two months now. And I'll falling behind on projects/deadlines. I'm feeling overwhelming.
In just a moment of fortuitous timing, I saw the Winter Stitching List Link-up on
Fairy Face Designs
.
It's so great. I need to make a list. And oddly enough seeing these other lists is sooo inspiring to me.
Let's get on it, yeah?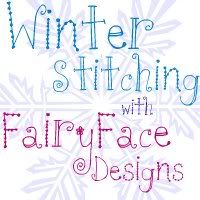 1) Finish the ZZQAL. This one should really be no surprise. It's lived on my WiPWeds. lists for-flippin-ever
I've made the audacious step of putting the components in a basket on my desk.
2) Bottled Rainbows quilt.
Let's not talk about how long I've had this bundle. Nor shall we mention that the stickers are still on it...
3) Cooking Mama Rug. Because projects sitting in tupperware in my office are not attractive.
4) Game Quilt
This fabric has lived in that basket for well over a year now. I think they like it in there.
5) Eevees cross-stitch. It was supposed to be a birthday present. Here's hoping it'll be done by Christmas
6) Cranberry Pillow Commission Quilt.
7) Trench of Doom!
That plastic bag is attractive, right? Oh baby. Everything is cut and marked and ready. And then stuffed in a bag. That's part of the process, isn't it?
8) Christmas Quilt. Not much I can say about this one as it's a big secret for someone I know checks my page. It's certainly a challenge tho'.
9) Tardis Cross-stitch. Another present. Started and then abandoned.
10) Table Runner for SHG's Wall Hanging/ Table Runner swap
11) Stitch up Logo
12) Peeps Quilt
13) Make Plush Prototypes. I sketched up the designs and haven't sewn them yet.
14) Monkey Quilt - This idea isn't even really formulated. I'd be glad to at least get a design sketched out
15) Goldfish Quilt - Another idea not really solidified.
16) Less Than Three Quilt
That's only about half the fabric I have gathered for this one. It's going to be completely scrappy.
17) Design a quilt/block. This is something that's been in the back of my mind for awhile now. I love the design process and I think I should really give it a try.
Whew. List making complete!
No idea what I'll manage to complete off of this but even if it's just 4 or 5 projects I'll be delighted. It's really good to have everything here together so I can see.
And my brain feels a little lighter not having to keep track of all this.